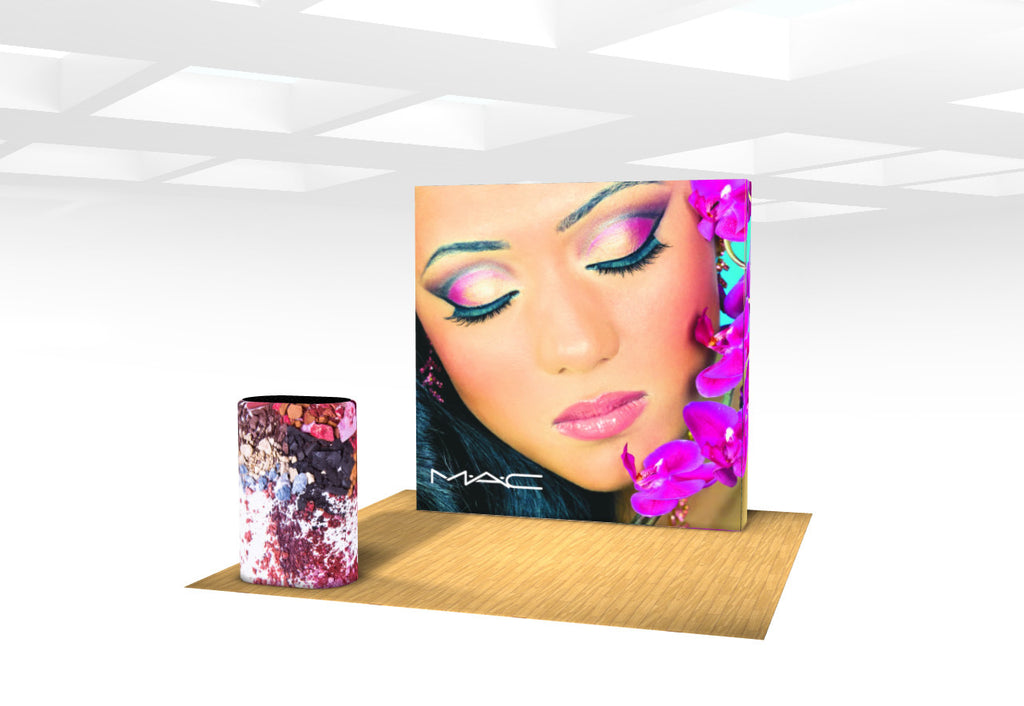 VBurst Fabric Pop Up Option Kits. Designed to Fill an 8' Wide Space (Click for pricing options below)
---
Kit Options (Click Pricing Drop Down Menu Above to see the pricing options):
HD Dye Sub Process.
One 3x3 flat frame with graphic.
End caps.
One case.
One case to counter conversion kit.
Counter fabric graphic.
Counter blotter (writing surface)
Two lights with packing foam.
Fits comfortably inside an 8'w x10'd Space.
Overview
Kits include accessories for complete exhibit needs.
Examples include table throws, lights, and case/counter conversions.
Everything you need at one great price.
Dye Sublimation Graphic. (Super Select or HD Dye Sub)
Adjustable feet.
Fast setup.
Velcro attached graphic.
Specs:
3x3 Flat Frame:

Open ... 88"w x 88"h x 12"d
Collaped ... 12"w x 12"d x 32"h

Shipping Weight:

Frame only .... 18 lbs.

Frame & Graphics .... 23 lbs.
Frame & Graphics & Case .... 45 lbs.
How it works

The VBurst is a fabric pop-up system with a fabric graphic already attached to the frame, using Velcro. It is available as either a flat wall or curved display. When the unit is set up, the graphic unfolds with the frame and stretches to form a completely smooth image across the entire display. The VBurst can be purchased with or without end panels. End panels are simply a wider graphic wrapped around the ends of the pop-up frame. The VBurst system comes with a nylon-carrying bag. Adjustable feet are included on each unit. The VBurst frame can also be purchased without a graphic too.
What makes this different and better from similar looking displays?
Lifetime guarantee on the frame

Metal J-Hooks in the back pull the fabric tight on the front.


No plastic parts to break on the back like lower quality units

Print quality is paramount when your reputation is on the line.


That is why we only print these via 8/C HD Super Select best quality via the dye sublimation

Attention to detail. The final sewing and finishing where everything is clean and precise makes
all the difference from a display that looks just right vs just okay


Download the art templates for the display in this kit by clicking here
Download the art template for the case to podium pillow case fabric
Download the VBurst brochures by clicking here
See a quick video of how it sets up below.
---
Share this Product
---
More from this collection